Credentials
Certified Aerial Fitness Master Trainer Levels 1 - 3
Certified Level 1 Born to Fly Lyra Instructor
Certified Barefoot Specialist
Certified VaihAyasa Aerial Yoga Instructor
Barefoot Stong Specialist Level 1
Certified AFAA Personal Trainer
Certified NESTA Sport Yoga, Spencer Pilates, and Outdoor Fitness Instructor, Life Style and Weight Management
Certified Health Minister from Hallelujah Acres
Faith and Health Ambassador
Certified Weight Management Specialist
Certified Living Foods Chef and Instructor
Food Safety for Handlers Certification
CPR / AED
Author / Speaker
Aerial Fitness is so much fun and creates changes in people; conquering fears, trying something new, and pushing beyond their comfort zone.
There are 9 years old to 75 years old that can do this and it is tailored to the very inflexible or to the athlete. There are many ways to assist or challenge an individual.
COACHING
Zina overcame early life health challenges which helped to shape her core beliefs that encompass whole body wellness to establish a healthy lifestyle, mind, body and spirit.
Core Beliefs
Our body is a gift from God and our response is to be thankful and a good caretaker of it. Whole approach; all systems affect each other; heart, mind and body. Workouts and exercise should be progressive and at your level. Nourishing foods can prevent and even help what ails you. You are worth it!
Your promise
To do your best, be open and flexible for new challenges, and ask many questions. Remember this is a process to find what works for you. Practice what you learn and be positive.
My promise
To motivate and encourage you to make healthy choices, meet physical challenges at your ability level, help you overcome plateaus and to be here for however long you decide.
Experience
Though she holds a M.S. in Computer Information Systems, still enjoys technology, and has served in the United States military; her passion has always led her to teach and encourage others in health and fitness.
Personal and Group Fitness Classes - HI, PA, DE 1998 - Present, • Nautilus Circuit Class Instructor - Beaverton, OR 1991-1993, • Personal Trainer - Nashville, TN 1985-1987, • Women's Gym Supervisor - Nashville, TN 1984-1986
Military Training / Experience (1990-1998) • P.T. Officer (body fat standards and lifestyle changes), • Earned and Maintained Expert Fitness Badge (maintain 290 or above for fitness.), • Earned Expert Field Medical Badge (EMT skills for combat, CPR, and intense physical training.), • Combat Medic Trainer, • Offered slots on 10-mile Team and Physical Fitness School.
My Training has included • Triathlon Clinics, • Running Clinics, • Dance Lessons (All Styles) / Clinics, Gymnastics. Pilates
Over 10 years of racing experience, and competitions. Awards in all areas: • Completed Five Marathons. • Multiple Distance Races: 1/2 marathons, 10ks, 5ks. • Multiple Long Distance Team Relays covering over 100+ miles. • Tin Man Triathlon (1/2 mile swim, 26-mile bike, 10k run). • Competitive Ballroom Newcomer and Bronze Level • Adult Gymnastics Competitions
One of the best zero drop shoes - Women's - More colors online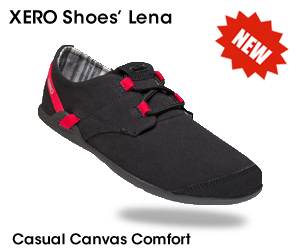 ---

Men's Shop the new Ipari Hana from Xero Shoes - Available now!
Shop the new Ipari Hana from Xero Shoes - Available now!
---
Find the perfect pair of barefoot sandals to fit your lifestyle.